GigE Vision SDSOC Platform for Xilinx SVDK Kit Evaluation Demo Platform Free Download!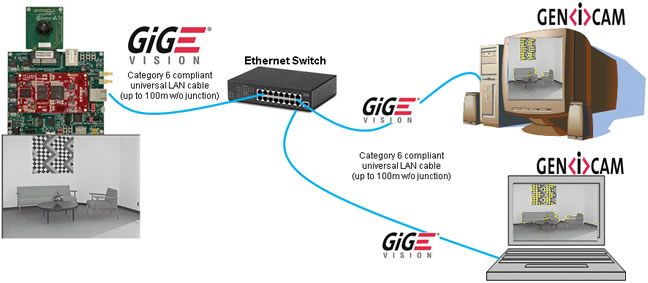 About Demo

This demo detects feature points (Edge/Corner) in every frame of input video by Harris Conner algorism. The video will be then added with graphic overlay marking detected point with dots, and be transferred in GigE-Vision Protocol Packet.
The PC(s) behaving as receiver end implements some software libraries (including GENiCam) for capturing the feature detected video.
Download free evaluation demo and test running our GigE Vision SDSoC Platform!
Overview of GigE Vision SDSoC Platform for Xilinx SVDK Kit
Major Features

Monochrome video input 1280x720(720P)
Edge detection(Harris Conrer Detect)
Graphic of Detected feature point (Graphic Overlay)
GigE-Vision v1.2 protocol video packet(720PRaw Data) transmission
Zynq Block Diagram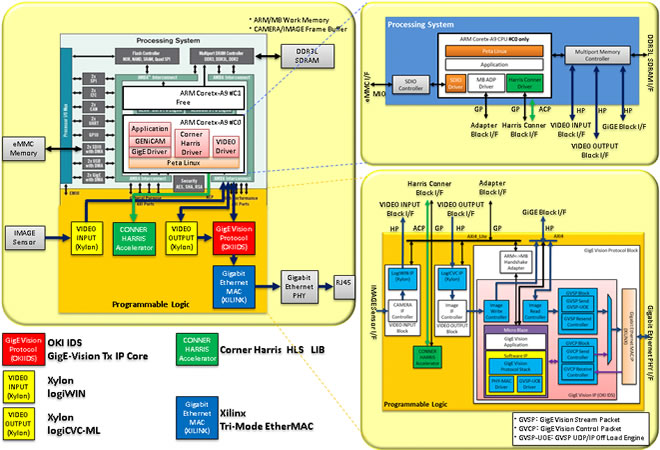 Evaluation Demo Platform
Hardware Platform
This demo uses Xilinx SVDK (Smart Vision Development kit) as hardware platform.
Evaluation Demo Platform Free Download
SDSoC Corner Detect GigE-Vision Tx DEMO data is available for free.
Download evaluation demo platform and test running it!
Download Data includes

Demo data
Corner Detect HW/SW Evaluation Bit stream for SVDK_PicoZed 7015 SOM:.bin
GigE-Vison Evaluation Driver, Demo Application for PC:. bin, .exe
(PC driver and application support Windows 7 or 8)
Installation manual and user's manual
Download
Please read through the disclaimer below and if it's acceptable click "Accept and Download" to proceed.
Click "Accept and Download" to download Evaluation Demo Platform of SDSoC Corner Detect GigE-Vision Tx DEMO (97.8MB)
If you are also interested in using SDSoC environment along with reference design please contact us from our inquiry form;
For any inquiry related to this platform, please contact us from our inquiry form;